Oftentimes, vacations would cost me upwards of $1,500 for one week, or approximately $214/day. Unless I somehow double my income, I'll have to limit myself to having a maximum of one of these vacations a year. So how can I go about incorporating more travel vacations in a year without breaking the bank? Now, I haven't been tracking the costs of my vacations in detail. Most times, I'm only aware of the final cost of the trip itself. As an experiment, and as a way to start figuring out to have more vacations for less, I started to track how much my Quebec Road Trip cost.
Surprisingly, after all the finances were balanced out, I only spent $75/night!
---
Looking for more Quebec related content? Take a look at some of these other posts:
---
---
Quebec Road Trip Costs
One of the perks of travelling with a group is that a lot of expenses can be shared with multiple people, reducing the overall cost of a trip for one person. For the Quebec Road Trip, our group of eight shared a total cost of $1311.86 for four days and three nights. On a per night basis (since two of the days were really spent travelling to Quebec and back to Toronto), this equates to $54.66/night per person.
It comprised of the following categories:
Accommodation (Airbnb) ($622)
Gas ($316.66)
Grocery & Alcohol ($221.57)
Car Rental ($105.63)
Parking Fees ($46)
The graph below breaks down the total amount spent for each category:
As you can see, accommodation and transportation consisted of almost all of the shared costs! 36% of our costs was dedicated on getting to and from our destination (the car rental, parking fees and gas refill) and 47% of our costs was focused on our accommodation.
Thanks to the nature of our trip, breakfast and lunch were often combined into one meal, and the cost of these meals was covered by the shared cost of grocery and alcohol listed in the shared cost fees. That meant that the only costs that were not shared amongst the group were two main categories:
Dinners and additional drinks
Gifts
I didn't buy any gifts for this trip so my only additional costs outside of the shared costs were for dinner, which averaged out to approximately $20/night bringing my nightly costs for this road trip to a cool $75/night.
What I Learned From My Road Trip
Prior to doing this analysis, I always thought that on a per night basis, visiting a new city for vacation would cost me a minimum of $150/night. But apparently, it is possible to reduce the cost down to $75 with a few key strategies (some more obvious than others).
1. Domestic Instead of International Travel
The easiest way to reduce the cost of vacation is to choose a domestic location. This opens more alternatives to travel there outside of a cost of a flight – which is generally one of the most expensive aspects of vacation. Domestic travels allow you to explore different options outside of flight including driving, busing, taking the train, taking a boat, or for local destinations, bicycling and walking to your destination.
2. Find Ways to Share Travel Expenses
Most modes of transportation need to be paid on a per person basis. However, driving is one of the few modes of transportation that allows you to share the cost of travelling over multiple people. Most cars can fit up to four people comfortably (or five if someone doesn't mind sitting in the middle!) and the cost of gas can be split equally between the group. Even if the car isn't owned by someone, a car rental split amongst a group of people will significantly reduce the cost of travel per person when compared to purchasing an individual flight ticket.  If you know the approximate cost of gas it takes to get to your destination, it is also great to do a price comparison with alternative travel methods like the train to see which one works best for your needs. In this case, a roundtrip ticket from Toronto to Quebec would cost at least $125 per person – which is comparable to the cost of renting a car, getting gas, and paying for parking fees in our Quebec Road Trip. However, our group wanted the freedom and flexibility of travelling to a number of places including Montreal and the Montmorency Falls, and the benefits of a car was much higher. If the goal of this trip was just to explore the city of Quebec only, a train ride would be ideal – especially for people who aren't comfortable driving for long periods of time.
3. Have a Kitchen in Your Accommodation
Hotels and resorts often only contain beds and a washroom. For travel destinations where sightseeing is the priority, money can be saved by preparing your own food. Having a kitchen in our Airbnb was a major plus as it reduced the need to dine out three times a day. Instead of budgeting $100 a day for food, it was possible to reduce our eating expenses by eating out only for dinner and having our breakfasts and lunch made at 'home'.
4. Book Your Accommodation in Advance
While this trip was fairly last minute to me, the group actually booked our AirBnb in advance. We had over a month to plan this road trip which allowed our group to price compare multiple Airbnbs to find one that was most suitable for our needs.
Originally we found a large Airbnb location for $350/night but we found a slightly smaller home, for $150/night that still accommodated all of us, a big win for drastically reducing the cost of this trip.
5. Prioritise What You Want to See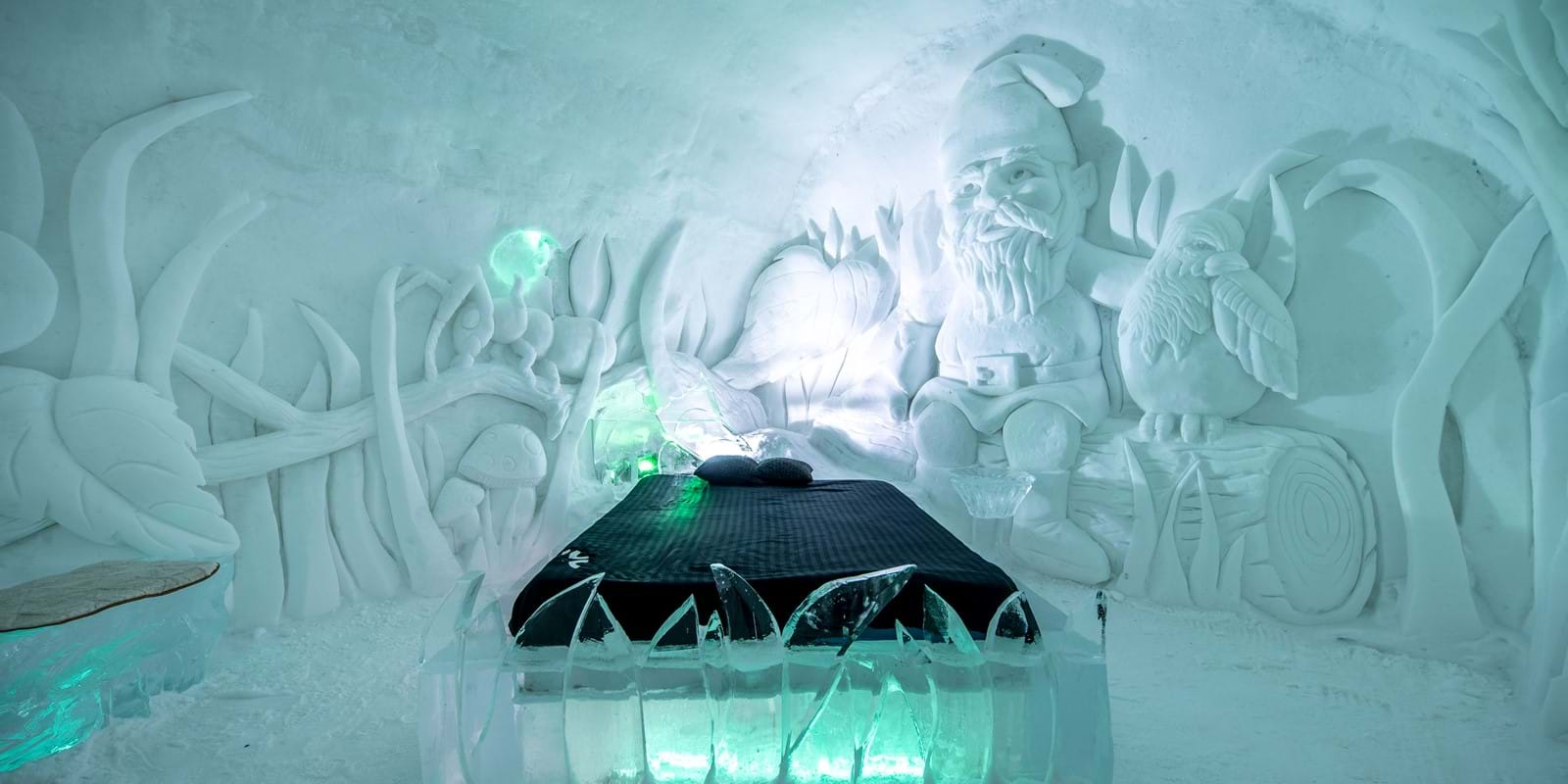 Our group wanted to visit and stay at the Ice Hotel in Quebec (featured above – doesn't it look so inviting!?), but our priority was to see Old Quebec. Given our short duration in Quebec and our purpose, we decided against staying at the Ice Hotel. By foregoing the Ice Hotel, we were more able to achieve our trip's purpose – which was to spend more time with our friends. I still think the Ice Hotel is definitely something worth seeing in Quebec, but for the purpose of this trip, sightseeing Old Quebec and bonding with our friends was more important.
Hopefully with all the money I saved, I can now go on more than one vacation a year! *fingers crossed*