You're going on a road trip to Chicago from Toronto? …. You should always takes the Detroit-Windsor tunnel over the Ambassador's Bridge
…were the first word's that my friend, and fellow SYDE classmate uttered as soon as I casually mentioned that I was going to go on a road trip to Chicago from Toronto.  According to his co-workers who regularly traverse the Detroit-Windsor border, the tunnel is hands down better than the Ambassador's Bridge. The line is shorter, it is cheaper than the bridge, and the border checkpoints are faster.
So far, I've been really lucky that with each destination I go, someone I know either knows another person who has made the same trip before, or has done the trip themselves as well. Regardless of the situation, I've always received warm words of advice that has made each vacation smoother and more enjoyable. Any advice to get to our destination a little faster was much appreciated – especially since driving from Toronto to Chicago is already an 850km  (~530 mi) journey one way.
This was an aggressively planned "see as much of Chicago in four days while breaking Maria's 2 hour driving limit threshold".
---
Looking for more of our experience around Chicago? Take a look at a few of these links:
---
---
4 Day Road Trip Itinerary – Toronto to Chicago and Back
Itinerary Breakdown
The 4 day itinerary includes commute time back and forth to Toronto, and prioritizes hitting as many of Chicago's' top tourist spots as possible. You'll see that most of sightseeing activities in Chicago are done over the course of two days. This itinerary does not include any detours to other cities or sights along the way from Toronto to Chicago.
The itinerary is organized into the following activities/main attractions:
Day 1 – Commute, Food, and Night Activities
Day 2 – 'Free/Outdoor' Chicago Attractions
Day 3 – 'CityPass/Indoor' Chicago Attractions
Day 4 – 1 Indoor Activity, Commute
Our Experience
Day One
This itinerary was definitely not an 'easygoing' plan and the four days were busy. Leaving Toronto at 6:00 AM ensured that we would arrive in Chicago in the evening and still have enough time to experience some of Chicago's famous deep-dish pizza, as well as one very unique night experience – turtle racing at Big Joe's. I highly recommend checking out our first day in Chicago in more detail. You might think turtle racing hosted at a bar is a bit of odd combination – but you'll see in our video that its actually a super fun and cheerful experience for everyone – turtles included (they get treats after their 'race').
Day Two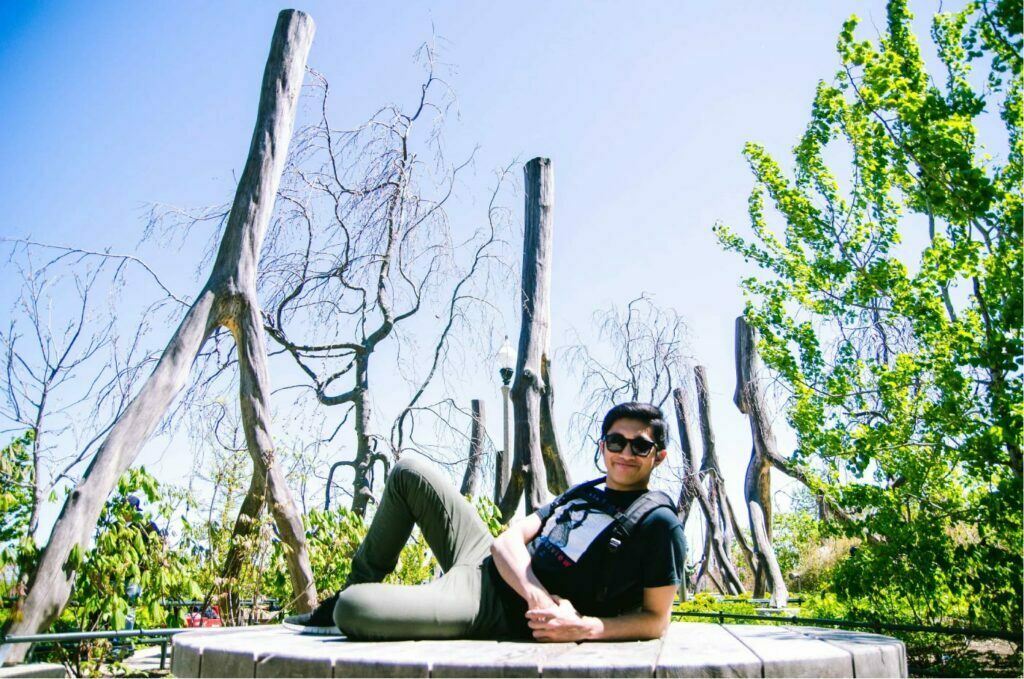 On our second day, we chose to stack most of our 'free/outdoor' attractions to give ourselves a bit of a rest from the drive. Although it was a lot of walking around, we could spend as long or as little time in an area as we liked and rest whenever we needed to. Thankfully most of the key outdoor attractions we wanted to visit were near each other.
The outdoor attractions can be grouped into the following general areas:
The Magnificent Mile
Millennium Park

Jay Pritzker Pavilion
Lurie Garden
Wrigley Square
Grant Park Maggie Daley Park's Play Garden
Buckingham Fountain

Navy Pier River Architecture Tour (not free)
Overall, our favorite activity on day two was actually an unplanned experience with the River Architecture Tour. Not all cities offer a river tour, and this one really takes you around the core downtown of Chicago. On top of seeing a city from a river view perspective, the tour emphasizes the history and stories behind many of the unique buildings, gates, and bridges that come into view. Something I also highly recommend, is finishing the day with a cocktail and Chicago's night skyline at the Signature Lounge.
Day Three
I'm not sponsored by or being paid to advertise the CityPASS product – we just think it is a great product for tourists 🙂
For our third day – we spent most of our time indoors at various locations. The night before, we purchased Chicago's CityPASS at the John Hancock Tower to give us discounted access to our upcoming attraction visits. If you aren't familiar with CityPASS, it is a product that is offered at over ten American cities (and is also offered for Toronto too!) that allows you to access the city's attractions at a discounted price (up to half off at some attractions) for up to nine days. At the time of writing, Chicago's CityPASS offered free admission to:
Shedd Aquarium
Skydeck Chicago (at the Willis Tower)
Field Museum
and discounted admission to:
Art Institute of Chicago
Museum of Science and Industry
360 Chicago Observatory Deck
Adler Planeterium
With our CityPASS, we visited the Art Institute of Chicago during the day, the Shedd Aquarium later in the afternoon, and then went to the Skydeck at the Willis Tower in the evening. I'd definitely recommend visiting the Skydeck Observation tower in the evening closer to sunset to catch some golden ray photo opportunities and to see Chicago's skyline bathed in the sunset glow.
Day Four
The last day was mostly the drive back home to Toronto. But at this point, we were pretty bummed out that we had only visited three of the seven attractions offered by CityPASS. So in the spirit of getting the most experience for our buck, we decided to stay in Chicago until the afternoon – pushing our arrival time back to Toronto until later in the evening.
After checking out from our motel, and with the extra morning time in Chicago, we headed off to the Field Museum. The drive from the motel to the Field Museum was short and sweet, but the parking fees, on the other hand, were not. For three hours, parking was $19 at the Field Museum! Like most cities, parking fees can really make a dent in your wallet if you aren't careful.
****Maria's Tip – Any downtown exploration should really be done without a car! Parking Fees will suck your budget faster than you can blink an eye.****
The CityPASS version of the Field Museum ticket offers access to all of the Field's Museum exhibits including the Underground Adventure – an interactive exhibit meant for children, to explore all the activities that go on directly underground.  We stayed here for three hours and we only had time to see the following exhibits in short detail:
Sue the T-Rex
Tattoo exhibit (ticketed but covered with CityPASS)
Underground Adventure (ticketed but covered with CityPASS)
Travelling the Pacific
Ancient Egypt
Galapagos 3D Movie (ticketed but covered with CityPASS)
Although some travel blogs recommend spending an hour or two here, Angelo and I agreed that we could have easily spent more than the three hours we were here for – especially when there's a 3D movie involved that took 40 minutes of our time. Don't get me wrong though! The movie was a great documentary and makes me want to re-binge watch Planet Earth and Planet Earth II again.
For future visitors who enjoy museums, we definitely recommend spending a day here if you have the chance!
The drive back home was surprisingly quick – 8.5 hours as predicted by Google Maps, even with the occasional restroom breaks and driver switching breaks. From our drive to Chicago, we learned that 3-hour driving shifts were best to give our legs a good stretch and give each other more time to rest and recharge on the passenger's side. Those cat naps and shorter switches made for a safer and more pleasant ride back home.
Reflection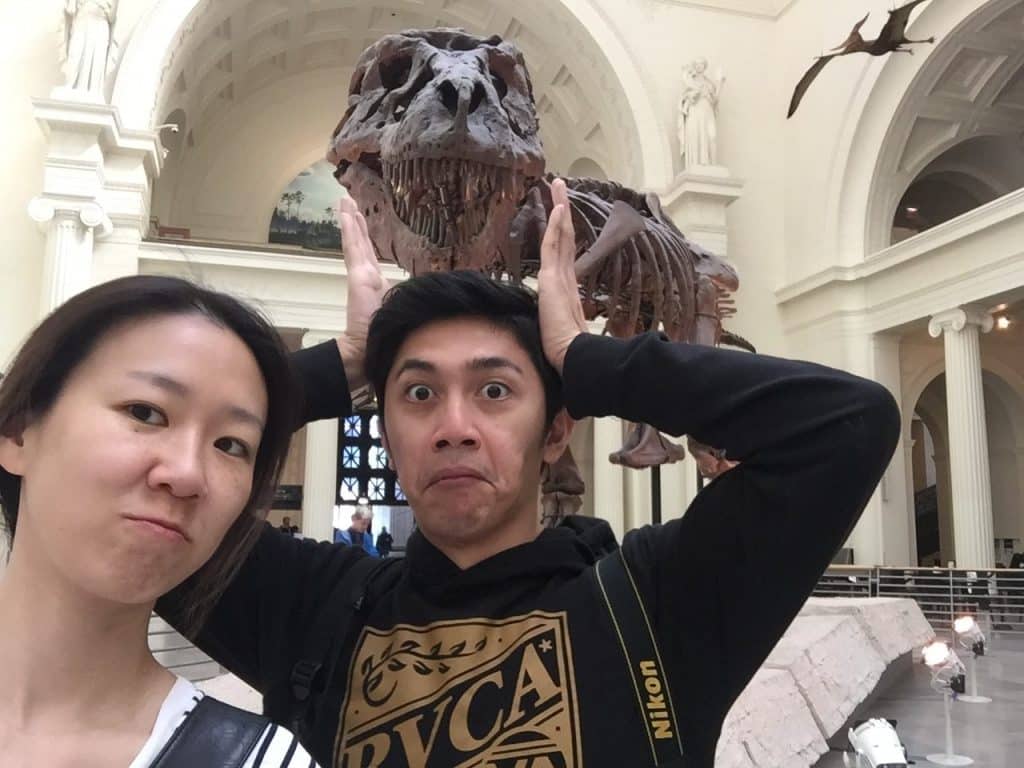 Looking back, we had an aggressive itinerary. To save money and boost our health – we decided to walk to almost every destination we could (excluding going to Big Joe's as it was half an hour's drive away from the core area of Chicago)
By the end of the trip, we each walked over 32 km (~20 mi) in the span of three days. My feet ache just thinking about it.
If you were to follow our itinerary, I would recommend you take public transportation, the taxi, or the Chicago go bus to get around. It will not only give you more time at each destination but will also save you from aching feet too!
Cheers to another successful road trip!