Anson, Kent, and I don't always travel together. The combination of time zone differences and drastically different work schedules make it difficult to coordinate a trip together. All of us still get the itch to travel so we'll go off on our own individual side trips without each other – what we might call an "SYDE trip" if you will. Thanks to Family Day, we had a long weekend here in Ontario. So, a different group of friends and I decided to take a road trip to Quebec City and Montmorency Falls.
---
Looking for more Quebec-related content? Take a look at some of these other posts:
---
Quebec city and Montmorency Falls – Unplanned Road Trip – Contents
This post is lengthy. Here are a few links to help you jump to the information you're looking for. Enjoy!
---
The Impulsive "Yes" in the Pursuit of Scenery
A month ago, a group of friends (excluding myself) decided that the best way to take advantage of the extra day was to go on a road trip to Quebec city and visit all the locations shot for the popular Korean drama: Goblin: The Lonely and Great God. Fast forward two weeks later, I was graciously invited to join this group of friends on the road trip. With the enticing promise of beautiful scenery and travelling with new people, the opportunity was too wonderful to pass on.
I said "yes" to the trip before a number of things dawned on me:
What drama were they referring to?
Who exactly am I traveling with?
Wait…where are we going exactly? Is there going to be some intense hiking involved to get to some of these locations?
How long does it actually take to drive from Toronto to Quebec?
To be honest, none of the questions were actually answered until the day of. In fact, many were answered when we were well underway into the trip. I didn't even know the title of the Korean drama until the second day of the trip! By the time I said "yes" to the trip, everything necessary was already planned. The rental cars were booked, the accommodations reserved and ready, and in a general way, even the itinerary for the trip.
In a way, this trip was the ultimate challenge of applying the lessons I learned from the Montreal trip. There was no better way to go with the flow than to go on a trip without knowing anything at all. Apparently, all I needed to do was pack enough clothes for the weekend, some essential toiletries and that's it!
Quebec City and Montmorency Falls Itinerary
---
Quebec City and Montmorency Falls Vacation Details
Day One – 8 Hours on the Road and Eating Pit Stops: Pizza in Pickering, Montreal Bagels and Smoked Meat in Montreal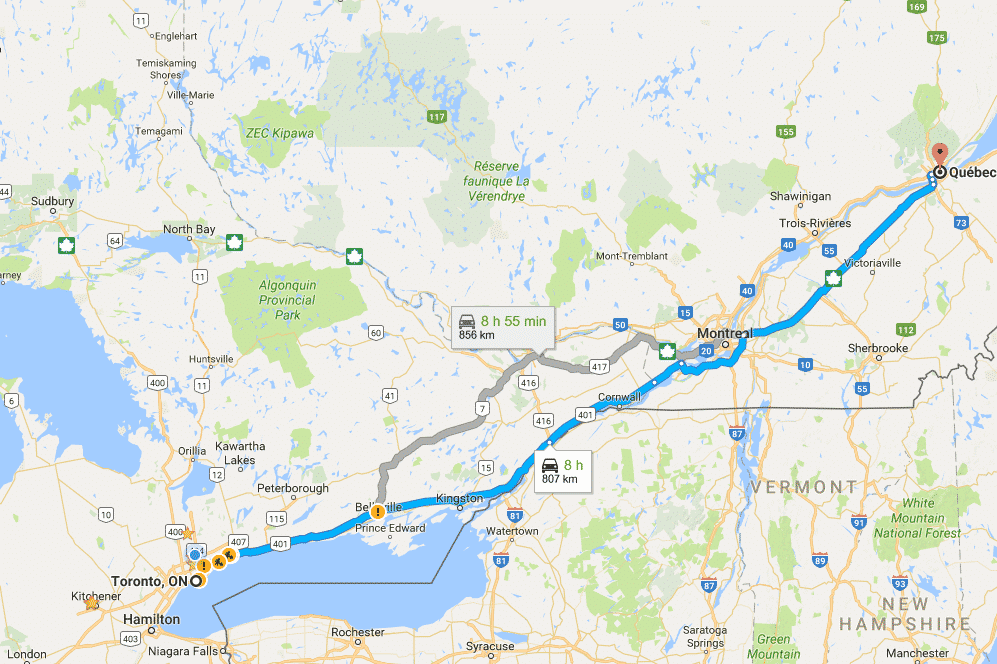 Morning Packing and Meeting the Whole Group
It wasn't until the afternoon of our first day of the long weekend that I was finally able to answer 3 of the 4 questions:
What drama were they referring to?
Who exactly am I traveling with? 7 other people
Wait…where are we going exactly? Is there going to be some intense hiking involved to get to some of these locations? Quebec City – but the days are still unplanned. Hiking might still happen.
How long does it actually take to drive from Toronto to Quebec? It takes 8 hours – thank you Google!
Before our road trip to Quebec City began, a couple of logistics needed to happen:
Obtain car rental – 2 cars were needed for a group of 8 and out of our entire group, we only had one reliable car (post-student early days!)
Picking up all parties – our group's homes were located sporadically across 4 cities, so we needed to meet up at central location and coordinate driving routes before starting our trip
I was really trying to embrace the whole 'don't plan for anything' mentality for this trip, so I didn't find out it took 8 hours to drive from Toronto to Quebec until we were well underway into our road trip. Normally, I'd be stressing out about the duration and worrying about things like:
ensuring all cars had sufficient gas
mapping out strategic bathroom breaks
planning for driver's fatigue and thereby planning an overnight stay in a city along the way for safety
figuring out universally pleasing music to play in the car
Thankfully, my last road trip to Montreal and its lessons learned were still fresh in my mind. I met the group at the designated location with a pleasant mindset and open mind to the various conversations, music, and podcasts that we would listen to on our way there.
3:00 PM – Late Lunch Break: Pizza Pino in Pickering
We didn't have lunch and needed sustenance – especially for our brave drivers who were going to transport us safely there. Our first stop was in Pickering. Tucked away in an industrial location, in a plaza with minimal storefront parking was Pizza Pino.
The restaurant itself is filled with nostalgia. Every photo hung on the wall has its own caption – photos of the opening of Ajax's various historical buildings. There are photos of the local sports teams, school openings, local engineers working on various projects, all printed in black and white and framed proudly on the wall. The food itself is comprised of unapologetically large pizzas bursting with thick cheesy goodness. Two large pizzas were enough to feed our entire group of eight so well that we worried our drivers would fall asleep from digesting the pizza! Unfortunately, I was so hungry I forgot to take a picture of this place, but I'm definitely bookmarking this place and will make it a point to stop by again.
9:00 PM – Dinner Break: Fairmount Bagel, Shwartz, and SAQ & Last Minute Assignments
Montreal was our major pit stop and it was such great idea. The arrival time to Montreal fit well with a late dinner schedule (thanks to the late lunch), and it also provided us an opportunity to pick up breakfast bagels and some alcohol too!
I might be the only one that feels this way, but somehow road trips aren't quite complete without a celebratory drink once we arrive at the destination safe and sound. Even though this was my first time traveling with this group, the feeling was mutual, and I was glad that there was no need to propose an alcoholic pit stop to collect an array of beer, vodka, and rum. With alcohol in tow, our priorities turned to feeding our now-empty bellies. We required sustenance, and soon.
Having dinner in Montreal felt like deja vu from last month's trip to Montreal (see Day Four).  There was the same moment of opening the still-warm brown paper bag of a dozen bagels and inhaling the welcome smell of garlic and all dressed bagels followed by the warm, enveloping scent of slow-cooked thinly sliced meat.  Only this time, the thinly sliced meat were stacked precariously high on too-small plates accompanied with Cott's Black Cherry soda that subtly enhances the already smoky meat flavor. Yet again, Shwartz and Fairmount did not fail to deliver the satisfying feeling I craved.
The dinner was a welcome break for our drivers, signaling a hand-off to the second designated driver of each car. We were almost ready to continue the last couple of hours of the drive before we were notified that there was a last minute assignment that needed to be handed in by 12:00 AM. While patiently waiting for her to finish, half our group decided that more alcohol was needed and that our previous stash was insufficient.
By the time everything was completed, both cars were stacked full with bagels, cream cheese, and myriad of cans and bottles.
Day Two – Board Games and Drinks Until Dawn & Old Quebec's Goblin: The Lonely and Great God Shoot Locations
2:30 AM – Board Games and Drinks Until Dawn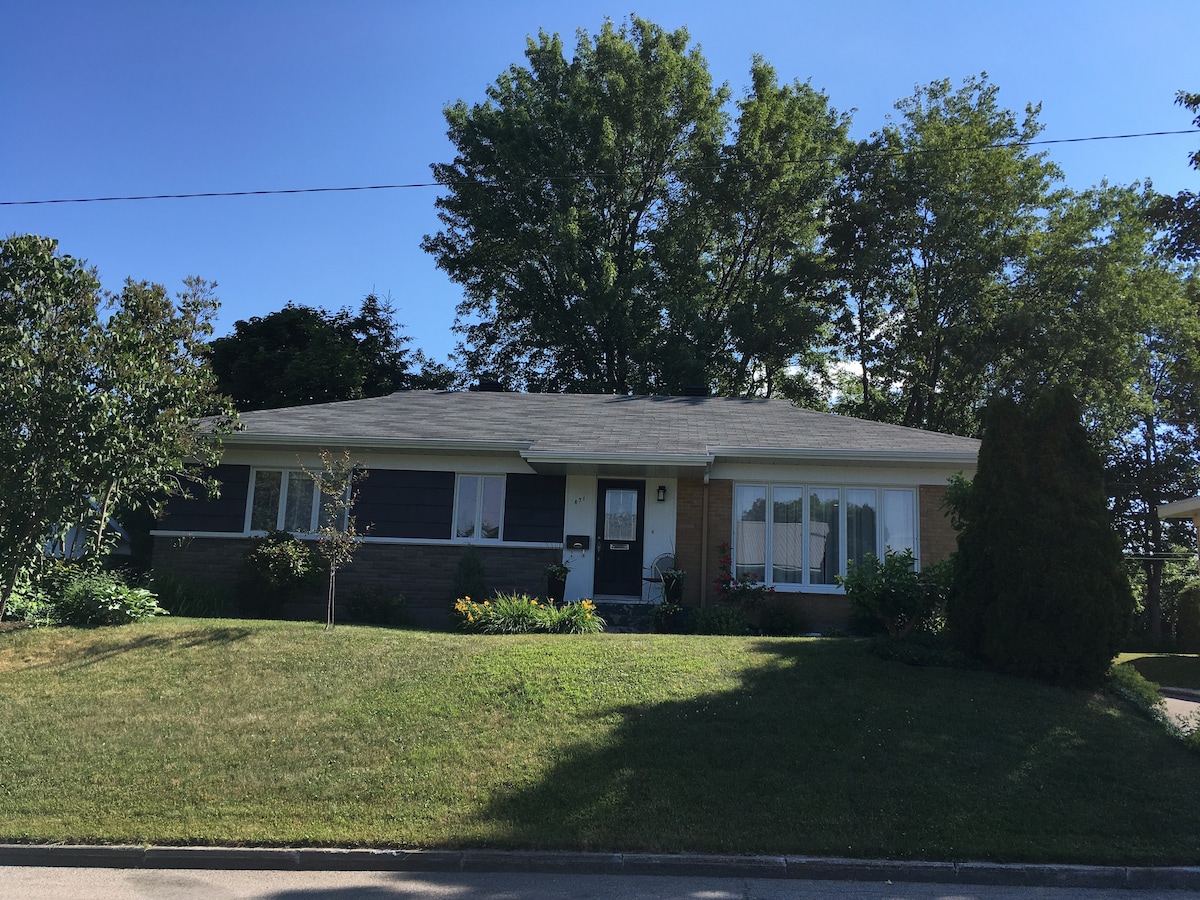 We ended up arriving at our destination, an Airbnb in the heart of the city, tucked away in a quiet neighborhood. The heated bathroom floors on the main floor was a major plus given its rental cost. An added plus, was that although the house could host a family of 7, the sofa couch was also a bed as well.
Before we left Montreal, I didn't think I would last past the celebratory drink. Somehow though, the excitement of finally arriving at our destination at 2:30 am, a pack of cards, some snacks, and shots of vodka kept our group energized and filled the house with laughter until 6 am. None of this was captured unfortunately but I can guarantee you that the card game Big 2 was much more fun than my childhood alcohol-free days. What's even more amazing was that the four designated drivers had more energy than the passengers combined. They not only drank the most, but laughed the most, and stayed up the latest.  Props to you guys.
Looking for the Korean Drama's "Goblin: The Lonely and Great God"'s Shoot Locations in Old Quebec
When we arrived at the Airbnb, there were earnest promises made to wake up by 10:00 am. As we headed for bed at the break of dawn, those promises transformed to 'try our best to wake up early'. As a passenger, I thought I would be able to wake up the earliest, but I ended up waking up the latest out of the bunch. Whoops. By the time my bleary-eyed body shuffled out into the kitchen, it was noon, and our "breakfast" was well underway.
…. hey. What happened to the cream cheese?
I also found out that regular human beings eat cream cheese spread on a bagel like they do with butter. Spread thinly and evenly…. NOT like they way they do it at Tim Horton's. There was no mountain of thick cream cheese with the bagel's gap stuffed with a layer of cream cheese as thick as the bagel itself. Apparently, I inhale cream cheese at an absurd rate. But hey, a toasted cream cheese bagel isn't a toasted cream cheese bagel without the cheese spread on thick. By the time I finished a bagel, our tub was 3/4 consumed…We made a note to buy more cream cheese for the next day.
By the time everyone was done showering and eating, it was past 2 pm and we were all ready to take head out the door to do some sight seeing. First stop though, was right outside our house. The tall snowbanks of the our quiet neighborhood was a rare sight for us and we spent more time than we'd like to admit documenting them.
The rest of the day was spent hunting down the following locations – unfortunately I don't have pictures for all the locations as I wasn't aware of what the photos represented and how it related to me (I just found out about the drama's name at this point) – but for those of you who are interested and familiar with the drama itself, FlyHoneyStars has an extraordinarily comprehensive list of all the film locations for this Korean drama (both in Korea and in Quebec) for you to peruse.
1 Rue des Carrières, Ville de Québec, QC G1R 4P5, Canada (Fairmont Chateau Frontenac Hotel for the exterior and mailbox found in the lobby)
1 Côte de la Citadelle Ville de Québec, QC G1R 3N9 (Park du Bastion-de-la-reine – 5 minutes away from the hotel)
Fontaine de Tourny, Ville de Québec, QC, Canada
68 Rue Sainte-Ursule, Ville de Québec, QC G1R 4E6, Canada (for a hotel door)
Côte de la Montagne, Ville de Québec, QC G1K 4E2, Canada (a bridge)
Escalier Casse-Cou, Ville de Québec, QC G1K 4E3, Canada (stairs leading to the Petit-Champlain District)
71 Rue du Petit Champlain, Québec City, Québec (for a red door)
47 Rue De Buade, Ville de Québec, QC G1R 4A2, Canada (La Boutique de Noel)
Personally, I think I was most interested in absorbing the sights and sounds of Old Quebec in general. The streets were still decorated with holiday cheer and light music still filled the air. It was like walking down a cozier Old Montreal. There were even hot apple cider and maple snow offered in the streets! An added bonus was that I got a huge kick out of my conversation about how to look 'powerful' while sitting down.
Dinner: Deep Fried Cheese Curds in a Poutine
By nightfall, it was not only getting cold, but we were getting hungry as well. Our goal for this road trip was to eat as much 'traditionally stereotypical' food as possible.  Enter: poutine, french onion soup, and escargot. We originally found a French restaurant nearby Old Quebec: Cafe St-Malo but as with many small restaurants, this was fully reserved and had no space for large groups. Our desperation for food and the ability to accommodate large groups eventually lead us to Cafe Du Monde. It is a huge space, great for groups and as luck would have it, it served all the food that we were looking – poutine, french onion soup AND an escargot dish. The highlight for me though was the deep fried cheese curds that we found in our poutine. It was definitely one of the more unique poutine dishes I have tried.
Perhaps it was the French Onion Soup appetizer that we had, but the Poutine with Pulled Duck and Leeks (with Shiitake mushroom sauce) tasted significantly more delicious late at night when it was reheated in the microwave and paired with a cold beer. If anything, this is one poutine that pairs well with a dark beer.
Post-Dinner Relaxation – Group Facial Mask Therapy & Late Night Board Games Again
A couple of the friends actually brought 16 facial sheet masks for all of us to try. It ranged from moisturizing masks that needed to be kept cool in the refrigerator to pore-ripping charcoal masks that removed all the dirt and impurities. I have to applaud my group of friends for suggesting and providing the sheet masks on this trip. It became an unexpected hour filled with hysterical laughter as we watched the newbies apply masks on their faces and hear their yelps of surprise as the cool, slippery feel of the sheets were applied to their faces.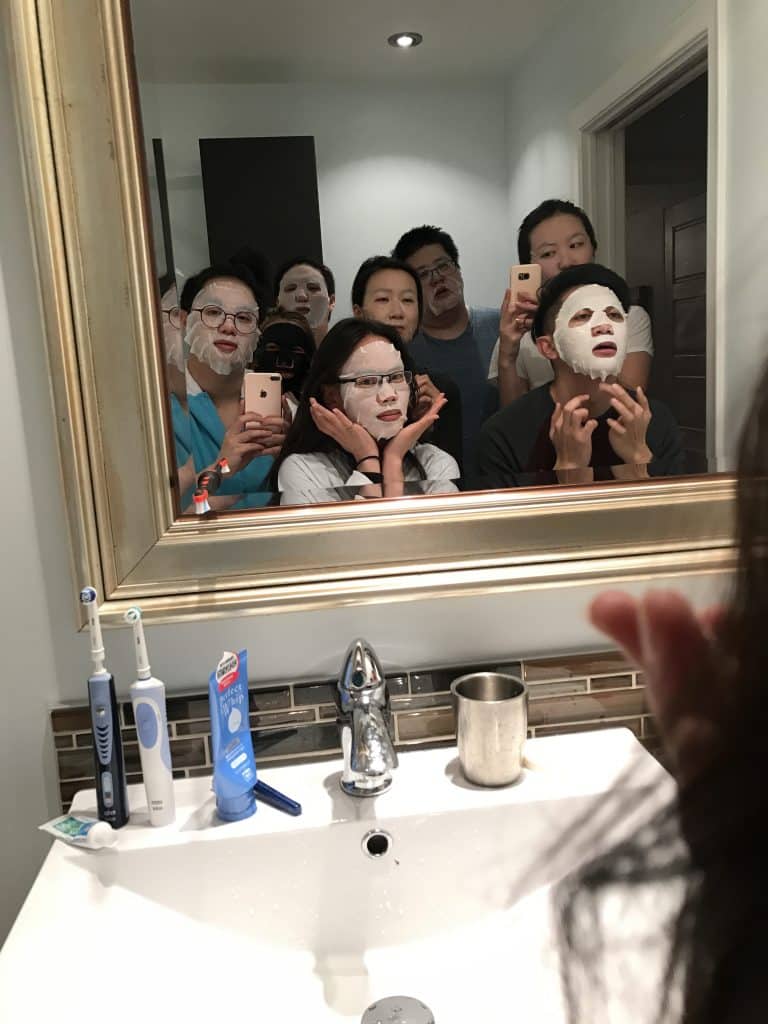 Maria's Tip: If you need to laugh while you have a sheet mask on your face, press the edges of the face mask against your face while you laugh to prevent the essence and the mask from slipping into your mouth.
The masks provided a great opportunity to play The Jackbox Party Pack 3 – a set of games that uses everyone's phones as their game devices to lie, cheat, and play other mini-group games. Murder Trivia and Fakin'-it was the group's top picks for laughter and fun. Once the masks were dry and ready to be removed we went straight back to drinking the night away until dawn. This time we stayed up until 5:00 AM and there were no promises made as to when we were to get up the next day. Only that we had to get up and do something.
Day Three – Montmorency Falls and Sliding Down the Sugar Loaf
We started day three with a late start of 3:00 PM. Most of the sightseeing that we came to see in Quebec were completed yesterday so today was a period of rest and relaxation. Today's focus was to visit the Montmorency Falls, a natural attraction listed as one of the top 10 things to do when visiting Quebec City. We arrived at the peak of the falls at 3:30 PM and rushed to the cable car to get a round-trip ride down to the falls and hopefully snap a few pictures at the base before the cable car ride closes at 4:00 PM.
Advice When Visiting Montmorency Falls in the Winter
During the winter season, the cable car ride stops operation at 4:00 PM. The ride itself takes 5 minutes one-way. If you board the cable car anywhere between 3:40 PM to 3:50 PM, the operators will allow you to board at one end but will forbid you from off-boarding the cable car at the end.
What was supposed to be a quick dash in and out of the cable cars to snap a couple of photos resulted in a round-trip ride up and down the cable car without ever getting off the cable car itself. Our group universally agreed that $13.00 for a 10 minute to view the falls through the dirty glass was not worth the experience. Its the equivalent of a movie ticket and that has more entertainment value per minute than this cable car ride!
When we arrived back at the peak, the only thing we could do was walk on the suspension bridge the top of the falls before heading to our cars and driving down to the base of the falls to get a closer look at the falls.
Walking to the Sugar Loaf on Montmorency Falls (Pain de Sucre)
Although a waterfall seems something that is more likely to visit during the lush summer seasons to admire the beauty and greenery that surrounds such natural attractions, the Montmorency Falls offers its own unique natural beauty in the winter scene as well. Because of its height (standing at 275m tall) and the frigid weather that Quebec City experiences, the winter experience brings the natural beauty of snow-covered stairs, naturally formed ice sculptures, and one of Montmorency's unique winter trait: the pain de sucre.
Although we weren't ready for scaling any ice cliffs this weekend, the kids laughing down the sugar loaf pulled us irresistibly towards the base of the falls to give sliding down the sugar loaf a try. Because the sugar loaf was built by the pounding waters of the falls spraying up into the air and crystallizing into snow, climbing the sugar loaf was like climbing an ice mound on a rainy day. It was inevitable that we end up with soaked jackets and wet bottoms after several rounds of sliding.
Taking photos or videos of the sliding experience was next to impossible. With negative Celsius weather and a persistent spray of water, all our equipment and our fingers were numb with cold. Camera lenses and phones were covered with fine droplets of water, making it impossible for us to operate our touchscreens.
In any case, I'm still really pleased our group managed to capture the laughter, enthusiasm, and the persistence needed to climb up this icy joy of a slide.
I think downhill sliding in the wintertime is one of my earliest memories of the winter. I remember it being filled with great joy and also a little bit of fear as my three-year-old self experienced the acceleration of going down an icy hill. The post-slide laughter filled my three-year-old self with insurmountable joy. It was really nice to be able to relieve that memory this weekend. Especially when it is sliding down a mound of snow created by the waterfall. We ended up staying here well until dusk and didn't leave the sugar loaf until it was dark.
Dry Off, Have Dinner, and Play Board Games All Night. Again.
Once we dried off from our sliding fun, it became apparent that one meal for the day was not enough and that our group was ready for dinner. Enter… Le Bureau de Poste, an almost identical clone to Toronto's El Furniture Warehouse, save the name. All items on the menu were reasonably priced at $4.95, with large portions (portions that would normally cost $15+ at any other pub), and a myriad of choices fit to fill our bellies with warm comfort food – the perfect choice of food after any outdoor winter adventure. As it was our last night in Quebec, we made one last effort to consume as much poutine as we could for dinner. Three days without vegetables is a new record and I couldn't help myself but grab a quinoa apple salad for dinner as well. Vegetables never tasted so good!
By the time dinner was finished, it was past 10:00 PM and the group agreed that tonight should be an easy night, filled with less drinking, and a focus on rest. Unfortunately, that wasn't the case. We had a bottle of Smirnoff Raspberry, a partially opened bottle of Fireball and several cans of beer remaining.
Hey we should at least finish off the Smirnoff and some the beer before we leave – it should be easy! We'll bring the Fireball home and keep tonight an easy and relaxed night.
….. the end of the night took us through multiple rounds of Big 2, Codename, a lot of Korean pop songs, and of course… we finished all the remaining alcohol we had left for our trip. Somehow we ended up staying up until almost 4:00 AM. Not a great achievement for a group that needs to be on the road bright and early in the morning.
Day Four – Heading Back Home
We ended up leaving the Airbnb at 2:00 PM on Monday. The way home took us to Fairmount Bakery again to pick up multiple dozens of bagels for our friends and family. Some of us probably didn't even make it home until 3:00 AM after driving everyone back home. Of course, we all had work bright and early the next morning, and one of us even had to be at work by 7:00 AM. I'm guessing we all felt a little rough the Tuesday after. It is one week later and there's a pile of laundry that still needs to be done.  Maybe next time I should just do it when I get home and leave it overnight? Thank you for the invite to this trip.  Despite not quite knowing where I was going or who I was going with, it ended up being a trip filled with so much laughter and sweet surprises! I might even consider watching the drama now too!