The last time I was in Arizona, I was five. All I remember was that I was at the Grand Canyon inside the belly of a sunny-hued Hummer with twelve people crammed onto two benches inside the car roaring up the canyon in what felt like "melting your face off" heat.
My takeaway was that Arizona was "impressively hot".
Coming back to Arizona as an adult with a better equipped tolerance for heat, has opened up my eyes and realized that there is more to Arizona than viewing the Grand Canyon from the Visitor's Centre and dying of heat.
If you're trying to figure out what to do for two or three days in Arizona, then grab a rental car, a tent, some comfy shoes and let's get hiking with us! We captured the Milky Way, saw the sunrise at the Grand Canyon, hiked Devil's Bridge, marveled at the Chapel of the Holy Cross, and more in our three day road trip in Arizona.
*Note* We did not see the Antelope Canyon but we can promise you that we saw quite a few other beautiful sights that's worth considering!
---
Looking for more road trip stories and advice? Take a look at some of these other posts
Arizona Details
Other Road Trip Itineraries
Long-Distance Driving and Road Trip Safety
---
Two and a Half Days in Arizona – A Road Trip Itinerary from Phoenix to Grand Canyon – Contents
This post is lengthy. Here are some links for you to find the information you're looking for. Enjoy!
---
Arizona Attractions – TL;DR
Arizona is as beautiful and bountiful with attractions as it is dry.  So without a doubt, two and half days in the state was simply not enough time to explore all the tourist attractions it has to offer. Both my travel companions, Angelo and Anson, visited the Grand Canyons last year, so this year's short trip prioritized not only Arizona's main attraction, the Grand Canyon (for me!), but also some lesser, but equally beautiful attractions:
Our Route for Two and a Half Days in Arizona
Here's a map of the entire journey. Our trip in Arizona took us on a circuit starting from Phoenix, heading towards the Grand Canyon and looping back to Phoenix. We made sure to take a different route coming back to cover as many scenic routes as possible!
Itinerary
Day One (Half Day) – Commuting in and Camping under the Milky Way
Coming from a training session that was scheduled to end at 2PM, our first day's outlook was short.  Not only did we have a late start, but we needed to end early – we had to catch the sunrise at the Grand Canyon the next day after all!
Here was our itinerary for the day:
2:00 PM – Go to the Phoenix Airport to pick up our Rental Car
3:00 PM – Finalize itinerary and leeched some free WiFi at the Harmon Public Library
5:00 PM – Go to In N' Out for dinner
5:30 PM – Cross the street to shop at Trader Joe's for tomorrow's packed lunch
6:00 PM – Drive to AirBnB campground site located in Williams, Arizona (45 minute drive south of the Grand Canyon Visitor Center)
8:30 PM – Arrive at campsite to set up tent and enjoy the night sky
10:30 PM – Hello early bedtime!
Day One Details
Angelo and Anson actually ended up arriving a whopping 3-4 hours before my training ended. They ended up taking a public bus to a nearby public library  (check the link for hours) to finish up some work, surf the web in a quiet space, and to relax. The plus side was that this library was fairly close to food as well, making it an ideal space for them to rest after a lunch meal too!
Anson's Tip: Tired of coffee shops but need WiFi? Then checkout public areas nearby the airport if you need some place to relax and wait – like a public library!
We actually ended up using the library as a convenient meeting location, and spent some time confirming our short Arizona itinerary before heading out for an early dinner at In N' Out. Why? Because I never tried it and wanted to compare it against its West Coast competitor – Shake Shack!
Rage at the Under-Cooked Served at In N' Out
When we were planning our night's stay, we knew that we wanted to get a campsite as close to the Grand Canyon as possible to take some cool night photography. Unfortunately, by the time we got around to booking a campsite, the Grand Canyon's campsites were all full! So we ended up choosing the next best alternative, which was camping as near as we possibly could – which turned out to be a 45 minute drive south of the Grand Canyon's visitor center.
As we started near the Phoenix airport, we knew that driving to the Grand Canyon would normally take about three hours. By the time we were ready to leave Phoenix, it was already 5:00 PM and we weren't how deep in the desert we'd be at the campsite – so we decided to stick to Phoenix for our dinner.
Conveniently enough, the path leading to our AirBnB had a Trader Joe's and In N' Out plaza on the way. Score! I love it when we don't have to make detours on a tight timeline!
Although Anson and Angelo were familiar with In N' Out, I wasn't. Was I in for a surprise. Both raved about the burger and milkshakes, but NEITHER OF THEM TOLD ME ABOUT THE SORRY STATE OF THE FRIES. In case I offend anyone, I did *not* try the Animal-style fries, and went for their regular fries. No one told me it was a thing for them to cook their fries a little undercooked and I was very disappointed indeed when I took that first bite. I mean… who even likes to eat raw potato? While its not *quite* like eating a completely raw potato, it was close. I'm sure there are people who enjoy that texture, but alas, I was not one of them. yech.
Desert Nights are Cold and Beautiful
We've all been educated that desert ecosystems are a place of extremes. While I understood it on an educational/theoretical level, it isn't the same as experiencing it for yourself – out in the elements.
As we drove further north to our campground AirBnB, we watched our car's thermometer steadily drop from the warm 27 C / 81 F to a  windy and finger-numbing -2 C / 28 F. Okay. When most people said the desert nights were cold, I used to think it would be 10 C / 50 F cold. It didn't cross our minds that it would fall into the negative Celsius range. Thankfully we checked the weather while we packed our bags, and we threw some added layers into our bags.
***Maria's Tip – Checking the weather before you go to *any* location is a lifesaver. Seriously. No matter how much you think you know the place, its always good to double-check!***
Still. It is one thing to understand the weather, but it is entirely another to sleep / dress for a prolonged period of cold in a tent. Seriously, layer like you're hunkering down for a cold, cold winter day. There was no escaping the cold touch of the side of the tent, and we slept like rolled up snails in our sleeping bags to conserve heat.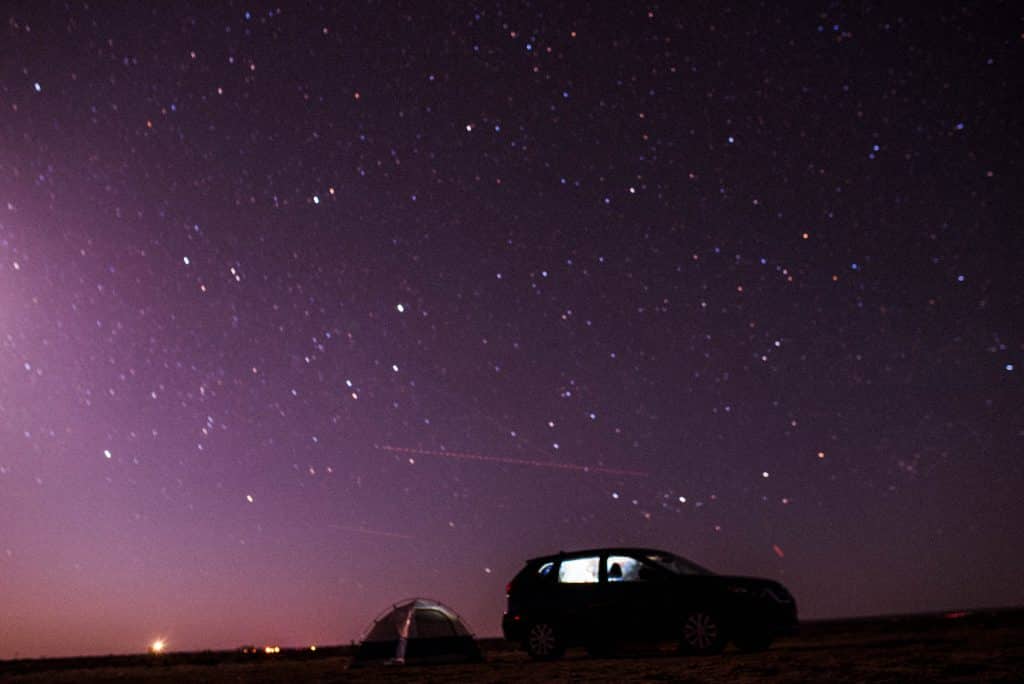 On another note though, the desert expanse and sparsely populated area made it ideal for star gazing. Although we weren't located in Southern Arizona, also known as "astronomy capital of the world" , we were definitely treated with an unpolluted view of the stars.
Day Two – 19 Hour Day and 161 Floors Climbed at the Grand Canyon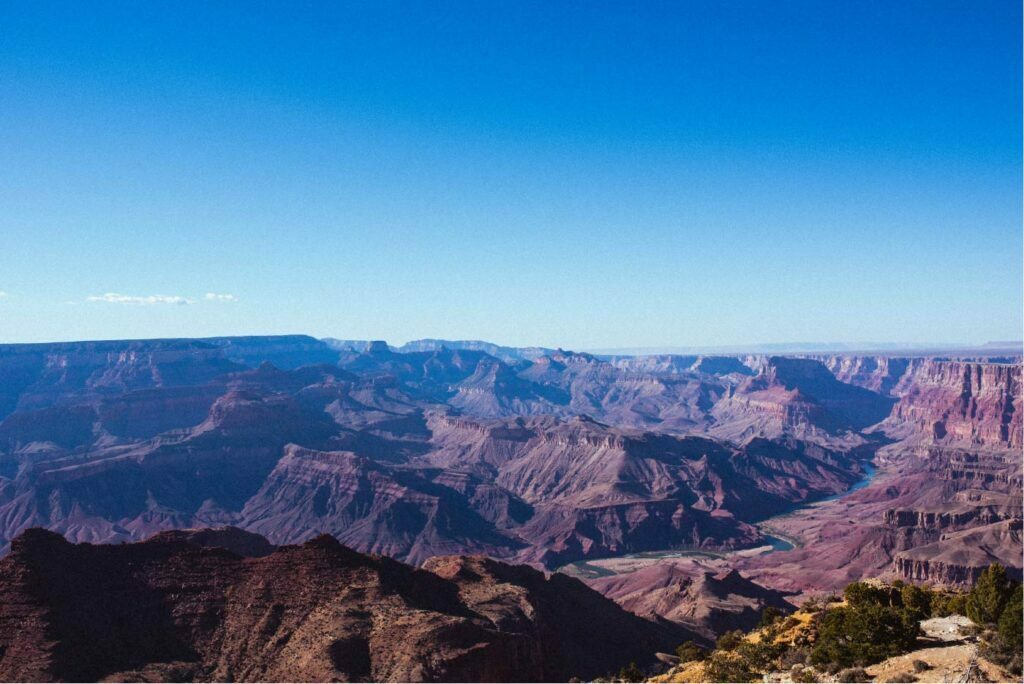 3:30 AM – Rise and shine! Pack the tent and drive to Grand Canyon
4:20 AM – Arrive at the Grand Canyon Visitor Center Parking Lot 2
4:30 AM – Head to Mather's Point and set up for sunrise view
6:00 AM – Breakfast and Nap Time
8:30 AM – Take the Orange Bus Shuttle to South Kaibab Trail to hike
3:45 PM – Stagger into car and drive to Desert View Watchtower
4:15 PM – Explore watchtower and take photos
5:30 PM – Drive to Flagstaff
7:30 PM – Mexican Cuisine dinner
8:30 PM – Check-in and wind down at Hotel Aspen Inn
10:30 PM – Goodnight folks!
Day Two Details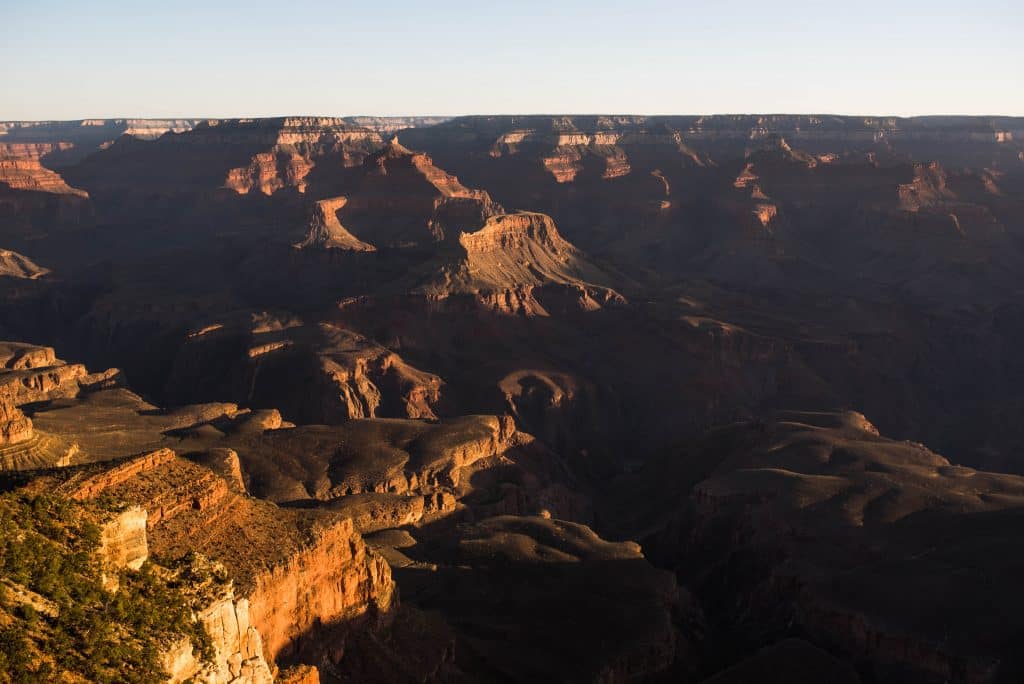 Why the Sunrise at the Grand Canyon is better than the Sunset
Zero traffic going through the National Park Booth (you still need to pay to enter the park – honor's system is in place in the morning as there is no attendant manning the booth until after (9:00 AM)
Guaranteed parking at the Visitor's Center Parking Lot
Starting in the cold means you appreciate the warmth that much more when the sun finally rises
Less people will be in your photos
You still get the golden hour that sunrise gives you but there's something more magical about seeing the Grand Canyon slowly appear before your eyes than the reverse
You can nap afterwards and still wake up refreshed enough to hike and start your day
The ELK are friendly in the morning and you can catch them having a leisurely stroll with you in the morning
Follow the Orange Shuttle Bus!
If you were to take a tour bus to Grand Canyon, chances are your journey ends at Mather's Point. But if you're creating your own journey, there are so many other views available beyond Mather's Point for you to enjoy. The Grand Canyon has a myriad of day trails, overnight camping trails, and if you're an experienced backpacker, multi-day challenges are available here too. These trails all take you on a vertical hike journey towards the innards of the canyon where you can see a stunning array of plant and wildlife AND experience a dramatic temperature shift. As you descend further into the canyon, the heat steadily climbs and in the peak summer months it could go as high as a scorching 49 C / 120 F!
Our group decided to tackle the South Kaibab Trail and aimed to reach the Skeleton Point (4.8 km / 3 miles one way) lookout and return back. This is the recommended limit for those attempting a day hike. On average, this hike is about 4-6 hours. Despite arriving in the more temperate months, we still followed the recommendations outlined at the Grand Canyon Visitor Center for the hike and protected ourselves from dehydration, overheating, and hunger . Specifically we:
Brought sunscreen with us and re-applied every two hours
Stayed hydrated (The recommendation was at least 1L of water per person. At the end return of our hike, we found we needed slightly more than that even in the temperate 27 C / 81 F weather)
Wore a hat (okay not all of us did – I paid dearly for not having one and had to deal with a sun-burnt scalp)
Packed food
Took frequent breaks in the shade
Checked in with each other and other tourists on everyone's health (slowest hiker should set the pace for everyone)
It took our group more than 6 hours to complete the hike because of the frequent breaks and multiple scenic photo opportunities. Because of the early start, we finished our hike before 4 PM and there was still daylight left in the day.
However, at this point, most people would call it a day and starting winding down with a shower, a relaxing dinner, and maybe an early night to rest and recuperate. But not us. Our tired group (excluding Anson because he's… an energizer battery and can keep going with hours of peppy energy), took to the car and decided to see one last sightseeing location before calling it a night.
Desert View Watchtower
The Desert View Watchtower is a stone tower located on the eastern edge of the Grand Canyon. By the time we arrived at the watchtower, there were less visitors milling around – likely because the Watchtower stairs are only open to visitors from 8:00 AM – 5:30 PM. We definitely had a much easier time navigating the stairs and had ample opportunity to pause wherever we pleased within the tower.
There's a gift shop within the tower itself, but the star attractions of this tower were the wall murals presented on each of its floors as well as the expansive 360 degree view offered at the top of the tower. Staying for an hour was more than sufficient to take in the views, the artwork, and to examine the gift shop.
The drive back to Flagstaff is worth mentioning as a sightseeing opportunity itself as well. As we were further east, we took highway 89 on our way back – giving us ample opportunity to pass by many smaller local stands that are run by the Hopi community. If you stop by some of the stands, the tourist trinkets are admittedly pricier than other tourist gift shops, but there are also some more unique items you may be find here.
Mexican Cuisine in Arizona
No pictures to share here, but feedback from various travel blogs, and food recommendations from locals all point us to trying out Mexican cuisine when visiting. Did not disappoint! Probably some of the best comforting Mexican food we've ever had was at the restaurant (MartAnnes Cafe) we stopped by this night.
Day Three – From the Devil's Bridge to the Holy Cross
8:00 AM – Breakfast at our Inn
9:30 AM – Head to Devil's Bridge
10:50 AM – Hike up and wait in line for photo
2:30 PM – Drive to Holy Cross Chapel
5:00 PM – Eat at Lolo's Chicken & Waffles
7:00 PM – Check-in to AirBnB – early night in
Not mentioned and not pictured in the itinerary, is the beautiful and scenic road going through Oak Creek Canyon. If we could go back, we'd definitely spend more time within the Canyon and the Provincial Parks there! If you have more than 2.5 days to spend around the area, definitely consider camping around this beautiful area.
Devil of a Hike to the Devil's Bridge
There isn't parking nearby the Devil's Bridge and the hike is really only a short 3.2 km/ 1.9 mi hike with an easy graveled footpath for most of the way. But the combination of the morning sun on our tired bodies from yesterday's activities, the 3.2 km stretch was a struggle. It took us almost 1.5 hours to walk to the bridge itself. There is minimal shade so definitely bring sun protection for this hike.
The first 2.5 km / 1.5 mi of the hike is on a relatively flat road separates the parking lot to the start of the actual trail. There's a raised barrier near the parking lot to deter smaller cars from driving on the road, but if you have an all wheel drive car, you can scale the barrier and drive directly to the trail head.  We saw a lot of Jeeps on our walk there.
The actual trail is mostly an ascending climb ending with the Devil's Bridge. This is a popular hike and probably had the friendliest and most polite tourists we've seen to date. There will be a photo-op line up to get a snap at the bridge itself. So you're definitely going to have to ask other tourists to take your photo for you and you'll probably take photos for them as well.
Every tourist there waited in line, well out of the camera's line of sight and everyone was so willing to help each other out to get the shots they wanted!
Its hard to tell from the photos, but the bridge itself is wider than it appears, but the sheer drop on each side of the bridge was enough to make our knees a little weak sitting at the edge of it all for the photo. Please be very careful here! No photo opportunity is worth the cost of your life!
We ended up staying here for more than 3 hours, and because of it had to make our way straight to the Chapel of the Holy Cross right away.
Chapel of the Holy Cross
The Chapel of the Holy Cross is a beautiful chapel built into the red rocks of Sedona. The chapel rising up from the red rocks, almost like it was always built nestled into the red rocks, is most definitely a sight to behold. A winding ramp that curves around the chapel allows tourists ample opportunities to take in the views walking up.
While there is parking at the base of the chapel, you'll likely have to park at the bottom of the hill leading up to it. Also, if your timing is right, there are multiple golf carts that drive up and down the chapel, so you don't have to walk the winding road up to head to the chapel itself. We were grateful to have one offer us a ride up.
The chapel is free admission and also has a gift shop on the lower levels. While the exterior structure is a spectacular view, we recommend visiting the chapel itself, as you're greeted with a tall stained glass window held together by the giant cross.
Furthermore, there is a viewing platform available outside of the Chapel, where you have an expansive view of Sedona's community. The platform is a beautiful space and is great for just relaxing and enjoying the scenery around you.
After the chapel, we concluded our day by driving back to Phoenix for dinner and to drop our car rental and send Anson off to the airport so that he could fly back in time for work Monday morning. Dinner was at the nearby Lo-Lo's Chicken & Waffles, which as its name implied served delicious Chicken and Waffles. The fried chicken was great. The sweet tea was deliciously cold and refreshing. A great dinner to conclude a short and action-packed weekend.
*Note: Originally, Angelo and I had decided to be extra frugal and wait for our morning flight at the airport. But after chatting about it over dinner and checking the prices of a nearby AirBnb, we spontaneously decided to book a location and spend a few hours showering and sleeping in beds instead of the airport chairs. At just $20USD a night for a private room and access to showers and the fridge, it was definitely well worth the several hours of comfort!
Next post – a tally of how much the entire trip cost!